Shades of Texas South
2618 Genoa Red Bluff – Houston, TX 77034
(281) 991-TREE
General Manager: Jon Gabriel Mathews
Our Houston location is the area's largest full-service garden center (south of Interstate 10 East to West). Customers are encouraged to drive through the entire 150-acre nursery to choose the plants and trees that best suit their needs. As we've grown and expanded, we've made industry professional convenience a priority. The roads between each of the twelve lots are wide enough to accommodate a 60 ft. long eighteen-wheeler.

Unsurpassed Selection of Plants, Trees, & Shrubs
When it comes to gardening, the importance of careful planning and plant selection cannot be overstated. We know that your outdoor spaces are an investment of your time and money, and we want you to enjoy your gardens for years to come.
We only grow and sell plants, trees, and shrubs that thrive in the Greater Houston area. When our customers succeed, we succeed.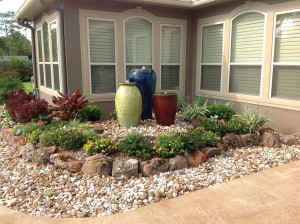 Relax to the Soothing Sounds of Water
There's nothing as soothing as the sound of trickling water.  One of the most popular additions to the landscape is a water feature to provide that relaxing sound. There are many options available that will meet the needs and budget of any home or business. We offer a large selection of large rock waterfalls and fish ponds, to the disappearing fountain that can fit anywhere in your yard or patio. We offer delivery and installation services.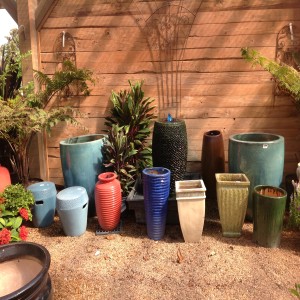 Unique Garden Accessories & Décor
We offer an array of outdoor pottery, sculpture, arbors, bird houses & feeders, hand-tuned chimes, and more.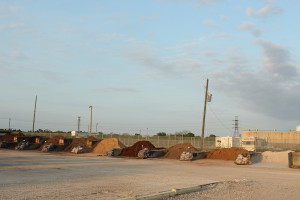 Sand, Gravel, and Rock
We offer mortar sand, bank sand, fine pea gravel, granite gravel, and bull rock. These materials are purchased by the bag or by the truck load. We offer delivery for bulk materials.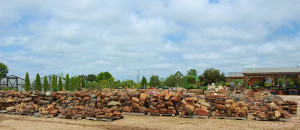 Natural Stone
We offer Oklahoma chop, moss rock, North Dakota pink quartz, and more. Stone is sold by the pallet or by the pound. We offer delivery for all of our stone.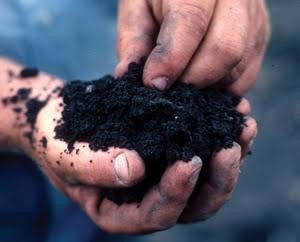 Soil & Mulch
The foundation of a healthy well-constructed garden is the soil. The quality of the soil determines the long term health of the plant material. We produce a custom blended soil mix designed specifically for flowerbeds, shrubs, and trees.  Our soil is a blend of topsoil, composted leaves & bark, coarse sand, and other trace ingredients. Our experience has shown that this custom blend provides optimal nutrients and drainage for Southeast Texas landscapes.
We offer finely ground compost to add to existing flowerbeds and lawns.
We offer enriched topsoil typically used for laying new sod and leveling existing lawns.
We offer mulch in a variety of colors and compositions.