Growing Healthy Specimen Plants & Trees
Finding and growing a healthy premium quality plant or tree takes extra time and effort. We pride ourselves in growing specimen plants and trees. As landscapers ourselves, we found it more and more difficult to find top quality plant materials. Therefore, we decided to start growing it ourselves.
Select Plant Material Including Trees in all Sizes
We were so pleased with the product we now have 80 acres in production growing specimen plants and trees to sell to other landscapers and home owners who were having the same challenge. We have select plant material in all sizes, from 4″ color to 100 gallon trees.
Easy to Handle, Container Grown Plants & Trees
All of our plants and trees are container grown to make them easy to handle, transport and make them more adaptable to wherever they are planted. You won't find material like ours at your local chain garden center. It is worth a visit to our garden center to see our products.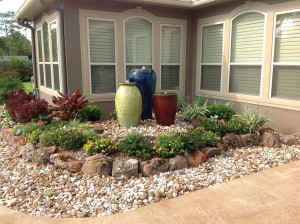 Relax to the Soothing Sounds of Water
There's nothing as soothing as the sound of trickling water. One of the most popular additions to the landscape is a water feature to provide that relaxing sound. There are many options available that will meet the needs and budget of any home or business owner. We'll help you determine your best landscape water feature. From large rock waterfalls and fish ponds to the disappearing fountain that can fit anywhere in your yard or patio. Each can be the perfect addition to your outdoor living space. We can help you determine what water feature will be perfect for you and install it as well.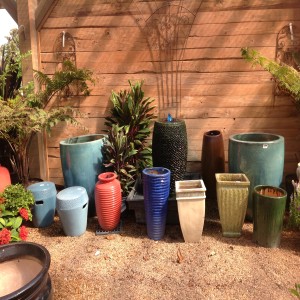 Popular Landscape & Patio Decorations
Outdoor pottery as an accent piece, a planter or disappearing fountain is becoming a part of every landscape and patio. We have a large selection of pots and accent pieces in a variety of styles, colors and shapes.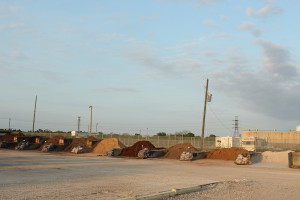 Sand, gravel, and rock by the bag or truckload
Mortar sand, bank sand, fine pea gravel, granite gravel and bull rock are also in stock and ready pickup or delivery. All of these materials can be purchased by the bag or by the truck load.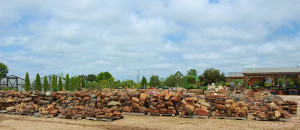 Assorted Rocks, Boulders & Gravel for Every Landscape Setting
Natural stone has a place in every landscape setting. Whether you are building a waterfall or retaining wall, bordering a flowerbed, making a pathway or just placing a large accent boulder in the landscape, natural stone is a good choice. Oklahoma Chop, Moss Boulders, Moss Rock, North Dakota Pink Quartz and other assorted gravels are just some of the selection at our rock yard. Our rock is sold by the pallet or by the pound, depending on the quantity you need for your project.The foundation of a healthy well constructed garden is the soil in which it is planted. This determines the long term health and growth of the plant material. We have a custom blended soil mix designed specifically for flowerbeds that includes topsoil, compost, various barks, coarse sand and other trace ingredients to provide the best medium for growing healthy plants and keeping them moist, and well drained. Enriched topsoil is available for laying new sod or leveling an existing lawn. An assortment of mulches are stocked with a variety of colors and compositions. Compost is available to add to existing flowerbeds or gardens and lawns.
Outdoor Landscape Decorations, Bird Houses/Feeders, Patio Benches & More
Accent decoration, metal art, arbors, door mats, bird houses/feeders, hand tuned chimes, peace poles, hand crafted concrete sanctuaries, decorative wall and patio pieces fashioned after famous historical collections.
We strive to have a higher quality and different selection of these items than you will find at your local chain garden center.